Paryushan is an 8-day festival in Jainism observed around August and September, depending on the lunar calendar. The word Paryushan has several meanings; Pari means all kinds and Ushan means to burn, so one meaning is to burn all kinds of karma. Another meaning of Paryushan is to get closer to one's soul, through introspection, meditation, and austerities. Paryushan is observed by Shwetamabar Jains (one sect of Jainism). Das Lakshan, meanwhile, is a 10-day festival that occurs directly after Paryushan. Its name references the ten virtues that are celebrated during each day of the holiday. Das Lakshan is observed by Digambar Jains (another sect of Jainism).
During Paryushan and Das Lakshan, Jains try to reduce their involvement with worldly affairs like shopping, socializing, entertainment, and eating out. Instead, a Jain is supposed to spend their time focusing inward on their own soul, reflecting on their habits and actions, and affirming their commitments to Jain principles. The end of each festival centers on forgiveness. Friends and family say the following phrases to each other:
Shwetambar Jains, celebrating Paryushan: Michhami Dukkadam!
Digambar Jains, celebrating Das Lakshan: Uttam Kshama!
Translation: If I have hurt you, knowingly or unknowingly, through my thoughts, words, or actions, I humbly ask for your forgiveness.
Paryushan and Das Lakshan 2022 (August 24th to August 31st | Sept 1st to Sept 10th)
During these important days, YJA will be posting on social media accounts with information about these days and ideas for practicing Jainism on those days, especially for those of you who are not near temples or may be just starting college and have moved away from home.
If you have any questions, please feel free to email [email protected]. We hope this content is useful and informative, and helps you find meaning and value in this most important of Jain festivals!
Michhami Dukkadam & Uttam Kshama!
YJA Bhav Pratikramaṇ
We are beyond excited to present the YJA Bhav Pratikraman, an audio and/or handout resource that can be used to reflect at the end of the day. This was designed for college students and working professionals who may have limited time.
Throughout the year we commit mistakes that malign our soul. Paryushan is an opportunity to get rid of those mistakes. Let's confess and feel the lightness with Bhav Pratikraman. Reviewed and recorded by Rashtrasant Param Gurudev Shree Namramuni Mӓhӓrӓj Sӓheb, this resource allows us to get one step closer to purity with confession of oblivious as well as conscious mistakes!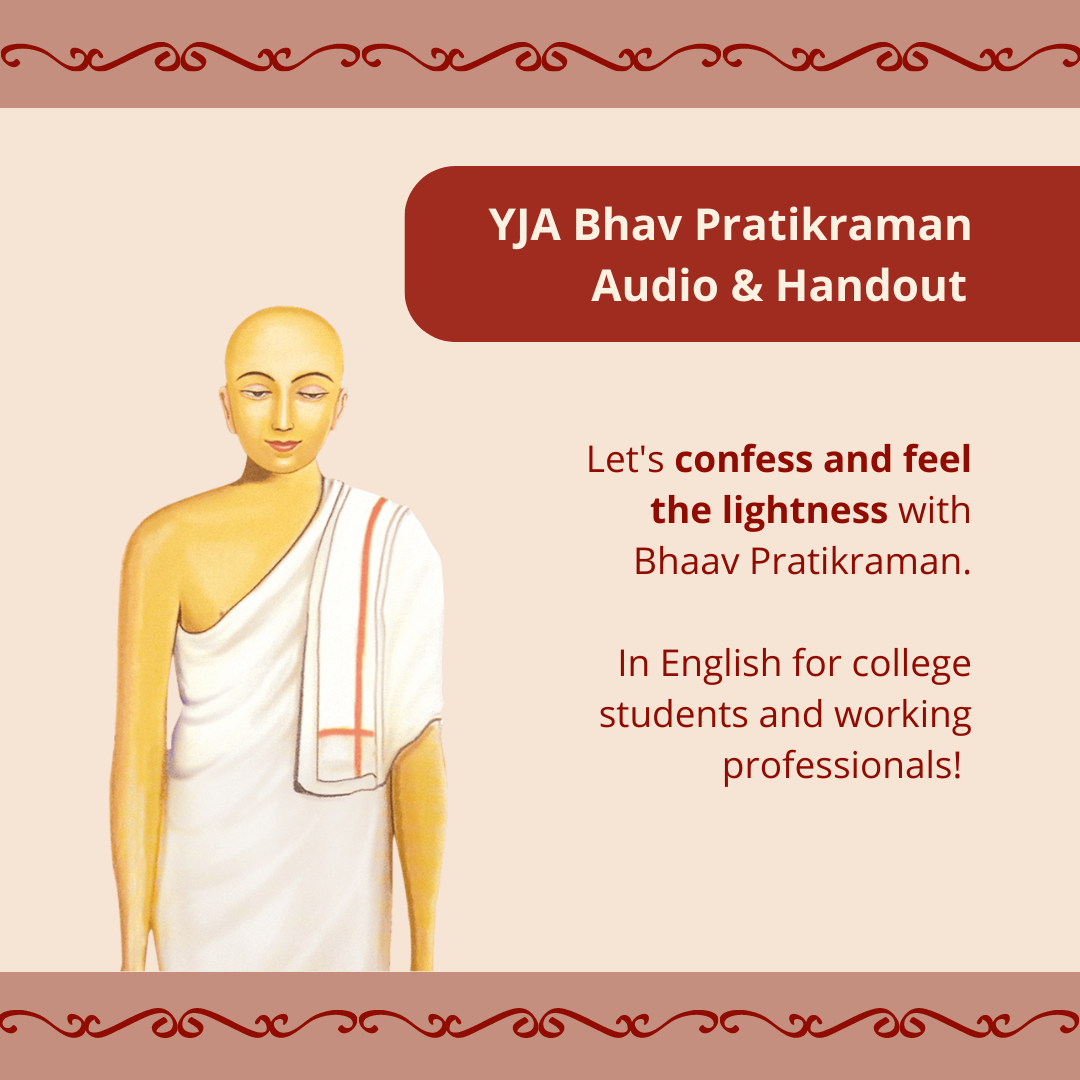 ---
YJA Samvatsari Pratikramaṇ Booklet with English Explanations
The YJA Samvatsari Pratikramaṇ Booklet with English Explanations is a printable resource that can be used during the completion of Samvatsari Pratikramaṇ.
With a complete outline of the Sutras to be recited, accompanied with brief English meanings, this booklet directs one to reflect on specific concepts throughout the Samvatsari Pratikramaṇ. Reviewed by Ӓchӓrya Shrimad Vijay JaySundar Surishwarji Mӓhӓrӓj Sӓheb, this resource is sure to make Samvatsari Pratikramaṇ more meaningful for all!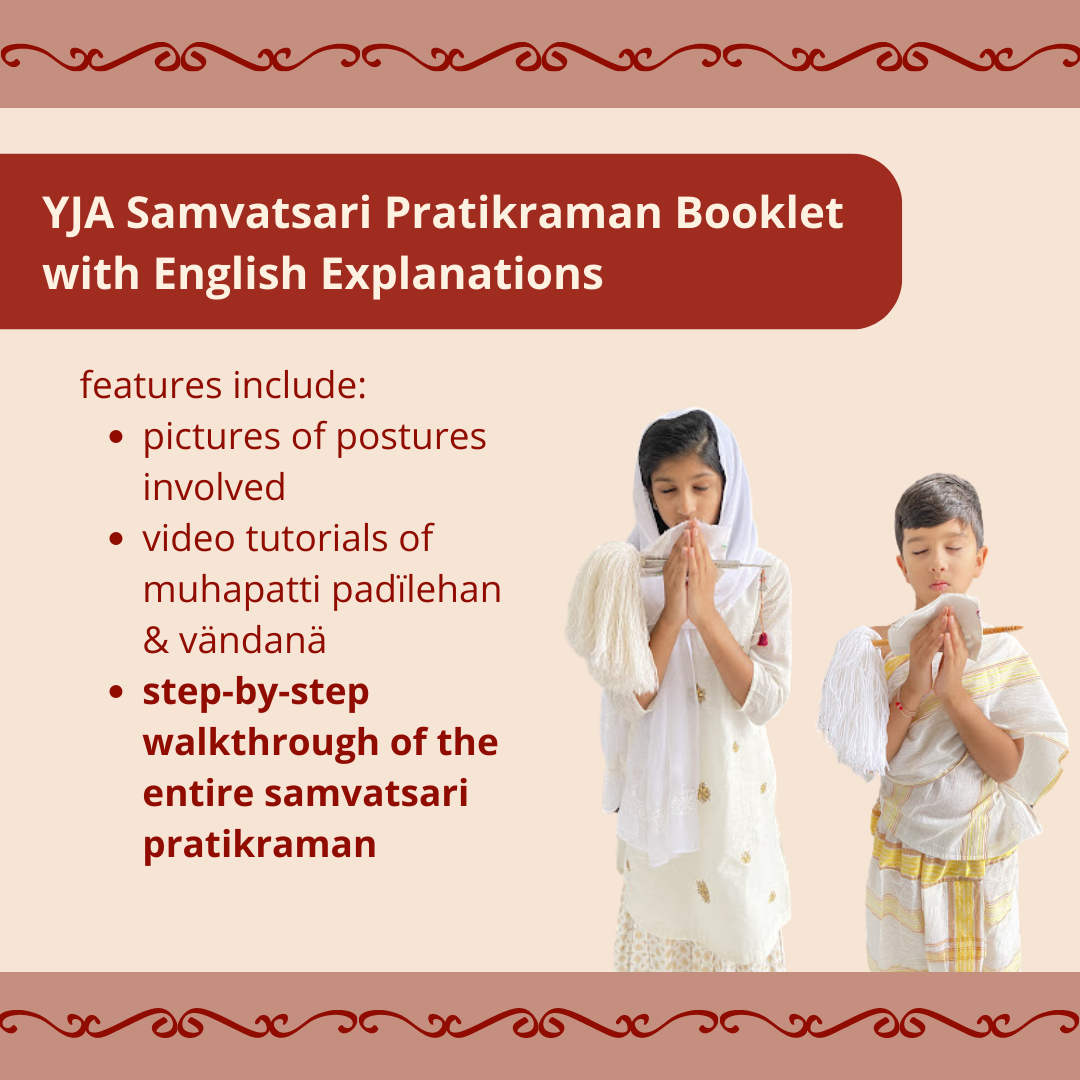 ---
---
Paryushan & Das Lakshan Sessions
This Paryushan, and Das Lakshan we are excited to invite you to a special series of sessions led by Param Asmitaji Mahasatiji. These two sessions are designed for college students and working professionals who may not have access to religious facilities.
The first session will be taking place on Sunday, August 28th from 8:30-9:30 PM ET on the topic, "Why Paryushan My Paryushan". The second session will be taking place on Sunday, September 4th from 8:30-9:30 PM ET on the topic, "U-Turn: This Paryushan Turn Towards You".
---
Seva - Clothing Drive
In the spirit of giving back to our communities during Paryushan and Das Lakshan, YJA is hosting its 5th annual Clothing Drive! The Clothing Drive will run from August 24th to September 10th at many local Jain Sanghs across North America. We are here to assist you in practicing the principle of Aparigraha (non-possessiveness) and help get rid of your new and gently-used clothing articles!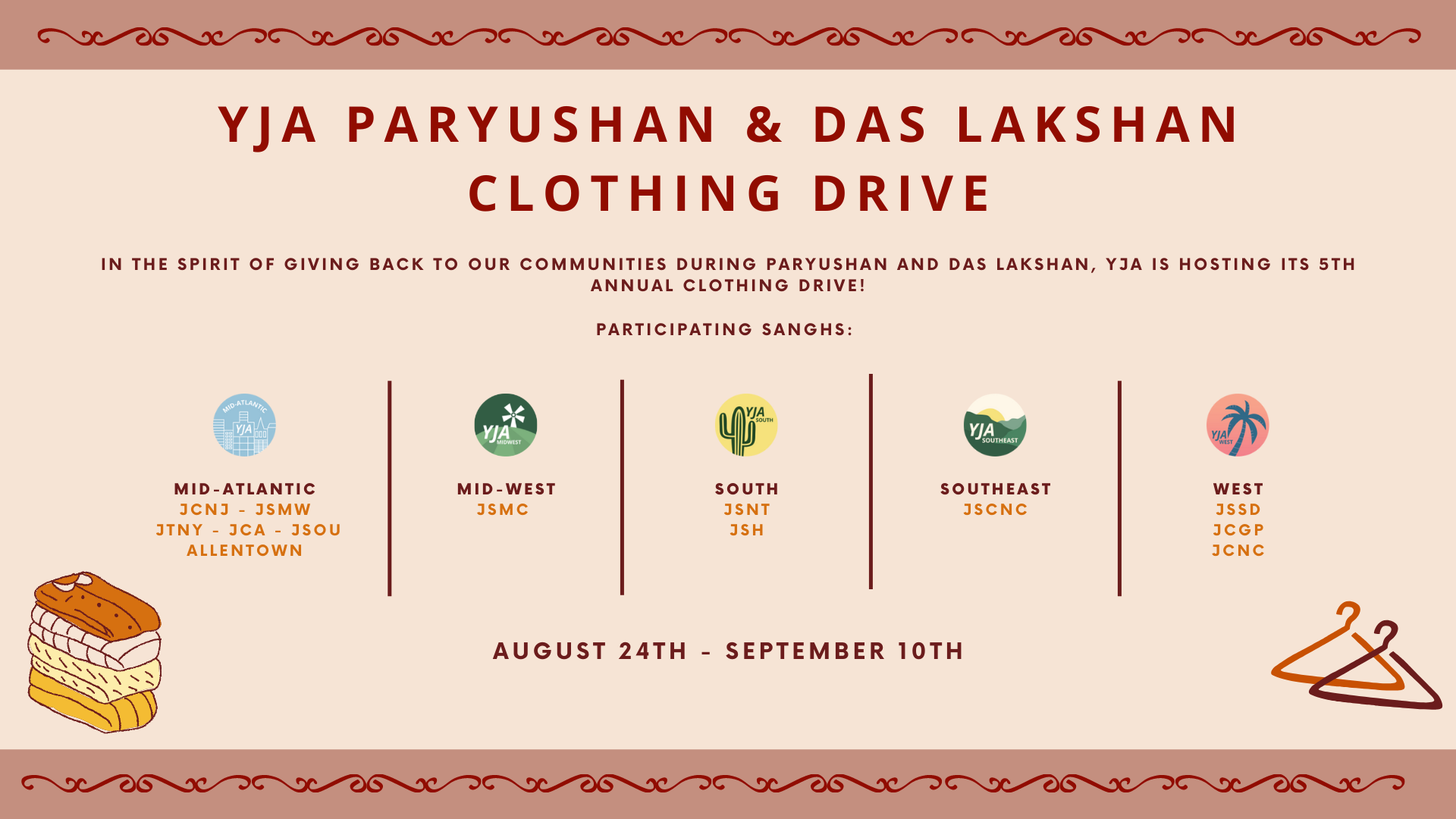 ---
Take a Vow!

Vows constitute anything that you decide to uphold (spending time reading religious material, limiting phone use, fasting, etc.) prior to the start of either Paryushan and/or Das Lakshan. They can be a great way to reinforce a positive habit or activity. Looking for ideas? Use our vow generator below.

If you're planning on taking a vow this Paryushan or Das Lakshan, let us know by 11:59 PM PT on Sunday, September 11th. YJA would like to spotlight you for working towards spiritual progress by taking on this meaningful obligation! Vow-takers up to the age of 29 are eligible to be spotlighted.

Why take a vow?

Taking vows and engaging in self-restraint are especially stressed during Paryushan and Das Lakshan. Read the article below to learn about the significance of taking daily vows, or Niyams, and discover their amazing impact, through some Jain stories. We've also attached a resource to help you take Niyams yourself! Links
---
Activity Tracker
Celebrating Paryushan or Das Lakshan away from home? YJA has you covered. Try these activities that allow you to reflect on Jain principles and don't require going to a temple, organized around the larger themes of the 3 As and the 5 Kartavyas (essential activities) for Paryushan, and the 10 Yati Dharmas (qualities) for Das Lakshan.
---